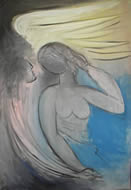 The Conversation with the Angel
1992
150 x 100, acrylic on canvas

The Angel speaks to the Soul, which is, nevertheless, deaf, grey-faced and confused. The knowledge of the action that the spiritual world exerts on Man, in order to transform him, is forever present in Mazzucconi's paintings. See, among others: The Spiritual Work 1977, The Stone-Man and the Angel 1977, The Angel and the Rock (Effatà) 1989, The D'ARS Angel 1990 and many other paintings, especially of the 1993-96 period.