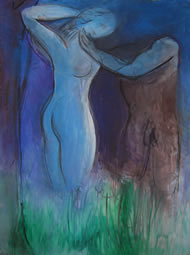 The Creation of Eve '92
1992.07.08
200 x 150, acrylic on canvas

See also:
The Sky and the Earth 1978
Mysteries of Love 1989
The Blessing 1994
"Loving a woman always leads me to imagine that God has forged her image, as for a creation."
It is a peculiar psychological pro- jection which leads the artist to identify himself, practically with… God, when he must paint his relationship with the beloved woman. Yet, he really feels that the Eros is something truly divine, and that Man, or even himself, lets God act through him.