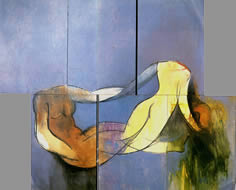 The Body and the Soul
1990
200 x 240, oil on canvas, in 6 parts

The lover frees herself from her loved one, bringing their love to its end. Likewise, the Soul separates from the Body, though still wrapped in the cold bands of its last physical raiment. It departs, taking with it, to the moist Garden of Eden where one day a new life will be born, a golden treasure.