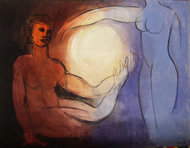 The Power of Love
1994.01.17
150 x 200, acrylic on canvas

Male vigour is 'contained' by gesture of the beloved woman who receives it. Life originated from this: more than a life, it would be more precise to talk about spiritual birth. The void which is present in the central part of the painting is often used in Mazzucconi's art, and it expresses the presence, the major importance given to the being.
See also: Liberation 1990,
The Unsustainable Lightness of Being 1993, The Door 1994, The Dream 1994 etc.