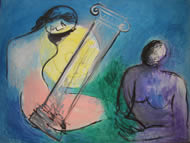 The Column (Patrice)
1992.07.21-08.31
150 x 200, acrilico su tela

Originally, the column was not in the painting. There was only the loved one, stylised as a herma in the remembering of an old love, and the bewildered man, who still doesn't understand the reasons of the abandonment. But an occasional meeting occurs and, returning to the Study, the inclined column suddenly enters into the painting: it is the woman image, which collapses, love is finished…and the composition balances itself in an unexpected way.