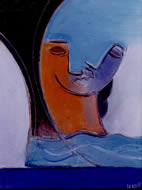 The Girl from Misano
1981
80 x 60, oil on canvas
I was on a train and there was a girl sitting in front of me, who was resting For some time her head would stay up-right, while the next it would fold slightly to a side. She was very nice, with a small and sweet mouth, and with eyes of which I could only admire the peachy eyelids, while she slept. And so she represented herself in my memory, along with the curtains of our compartment and the stretch of water we could admire from our window...