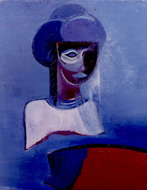 The Sultana
1979
92 x 73, oil on canvas


See:
Smili 1984
Sophia 1980.08.10
The Sibyl 1984.11.17

She is a woman with an oriental fascination and a mask of mystery or even two. Behind the masks, what remains? Fragments of a body, of a white dress, of a leg, sensual and powerful like a projectile.
The curled plait can be found also in other paintings as the spontaneous symbol of an arising wisdom.