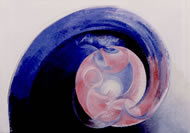 The Night and the Dawn
1976
70 x 100, oil on canvas
Under cover of darkness, actually, under cover of cosmic obscurity, there is a luminous point, a child is born. Is he the son of the night? Or is he the son of the cosmic and divine mother, whose hair are ornate with stars and whose heart is light ...