The Citadel of Culture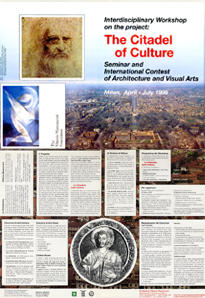 The Vittorio Mazzucconi Foundationi
April - July 1999
Interdisciplinary Workshop on the project:
Seminar and International Contest of Architecture and Visual Arts
The Workshop will include a series of Competitions, each one contributing within a particular discipline to the overall theme of the project, while a seminar will work out their integration.
ARCHITECTURE
An international Competition of ideas concerning a preliminay study of the
to be realized in Milan, in the Sempione Park area and in the surrounding areas, in particular the area actually occupied by the Ferrovie Nord ( Northern Railroad)
Overall, the project includes:
A Contemporary Art Museum, (similar, in size amd function, to the Pompidou Center in Paris)

An International Culture Center, with a Library, a Media Center and a Cinematheque

An Auditorium for 2500 persons called "L'Arca del Millennio" / The Ark of the Millennium.

The restructuring of the Arena, destined to become a multi-purpose, covered space.

The integration within the new project of existing monumental buildings: besides the Arena, the Castello Sforzesco, the Arco della Pace, the Triennale, the Giorgio Strehler Theatre, the Acquario Civico, and the Torre Branca

A new design for Sempione Park which exalts the function of a central space like a large green Forum of the CITADEL.